Welcome to the Unveiling the Sanctuary Series - 10 Lessons for Today
12649 Indian St, Moreno Valley, CA 92553
Webmaster services by K6DR.net. Please call/text 951-907-6838 or email K6DR@roadrunner.com if you need help.
Ten Bilingual Studies for Today's World (Diez Estudios Bilingües para el Mundo de hoy)
Winds of change are taking planet earth by storm. Are you ready?  Harold Zapata is an international evangelist who has made a special study of the Sanctuary.  Join us from the links below for a Bible Journey Deep Inside the Hidden Treasures of Revelation's Sanctuary and Earth's Last Days.   Prepare to be Blessed.  
    Inter-Faith **  Interesting **  Made for Busy People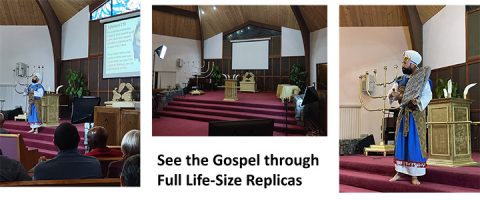 Vientos de cambio están tomando al planeta tierra por asalto. ¿Estás lista?  Harold Zapata es un evangelista internacional que ha hecho un estudio especial del Santuario.  Únase a nosotros desde los enlaces a continuación para un Viaje Bíblico Profundo Dentro de los Tesoros Ocultos del Santuario de Apocalipsis y los Últimos Días de la Tierra.   Prepárense para ser Bendecidos.
September 08, 2023 Part 1 Unveiling Revelation's Lamb (Video not available due to technical problems)
Download Slides
Desvelando al Cordero Apocaliptico